If you find any of this useful, please consider donating via PayPal to help keep this site going.
Email news@statisticool.com to sign up to receive news and updates
Very Short Random Story for Little Kids
5/2/19
In The Exploradorks, I showed an idea for making a random short story. In this article, I show a way to make a very short random story for little kids. I used this spreadsheet at a "Take Your Youth to Work Day", and it was a minor hit.
In the spreadsheet, simply enter your kid's name, or a funny name, etc. Then, various words will be randomly selected from the "Parameters" tab.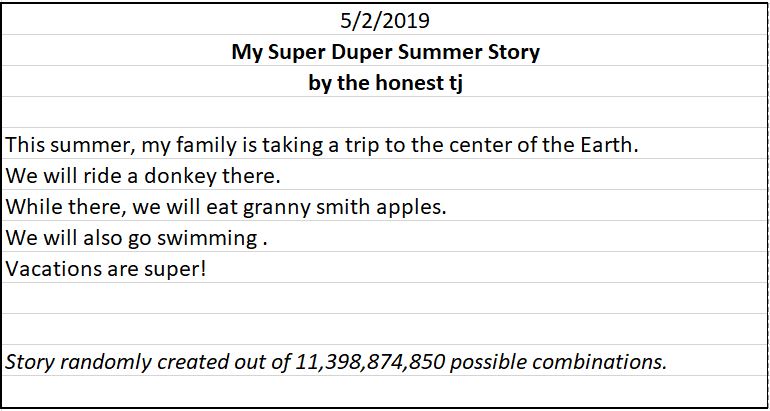 You are, of course, free to edit the Parameters tab and the entire spreadsheet to customize however you like.
Here is the spreadsheet demonstrating this technique. Please credit Statisticool.com if you discuss or use it.
Thanks for reading!
Please anonymously VOTE on the content you have just read:
Like:
Dislike:
---
If you enjoyed any of my content, please consider supporting it in a variety of ways:
AFFILIATE LINK DISCLOSURE: Some links included on this page may be affiliate links. If you purchase a product or service with the affiliate link provided I may receive a small commission (at no additional charge to you). Thank you for the support!