If you find any of this useful, please consider donating via PayPal to help keep this site going.
Email news@statisticool.com to sign up to receive news and updates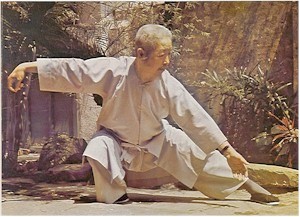 鄭曼青
Zheng Manqing
(Cheng Man-ch'ing)
Zheng Manqing (Cheng Man-Ch'ing) (1902-1975), a taijiquan student of Yang Cheng Fu, is one of the most influential taijiquan practitioners in history. He is well known for his 37 posture form, a form which eliminates a lot of the repetitions of previous forms which makes it accessible and practical for modern practitioners, yet still retains the core taijiquan elements. He is also noted for being one of the early practitioners to bring taijiquan to the United States and to also teach non-Chinese.
In addition to being a taijiquan practitioner, Zheng was a poet, painter, calligrapher, and traditional Chinese medicine doctor; a master of the Five Excellences. He was also a scholar and philosopher, and taught students about Kong Fuzi (Confucius) and Laozi (Lao Tzu). He earned the titles "Professor" and "One Dose Zheng". His style reflects this diverse background, a mix of wen (scholarship) and wu (martial). The style promotes relaxation, sensitivity, coordination, timing, balance, and is effective for self defense.
A syllabus of Zheng taijiquan, at the very least, consists of the taijiquan principles, 37 posture form, sensing hands practice, martial application of the postures, a sword form, and supplementary exercises.
Some of the principles emphasized in this style of taijiquan are: relax (sung), separate weight, body upright, turn the waist, beautiful lady's hand, invest in loss, momentate from one move to the other (dong dang), and swimming on land.