If you find any of this useful, please consider donating via PayPal to help keep this site going.
Email news@statisticool.com to sign up to receive news and updates
Meaningful American Kenpo Milestones
3/18/17
There are probably several dates in any martial art that are very important to you. Some that come to mind are
the date you first saw or heard of a particular martial art
the date you thought about starting the martial art
the date you actually started
the date you learned to tie your belt
the date you learned to bow or salute
the date you "perfected" a technique or form
the date you got your black (or any other) belt
the date you "discovered" ground techniques (if from a striking only martial art)
In American kenpo, which the majority of my martial arts experience is in, there is one date I am particularly fond of, and that is 7/6/2011, the date which I learned the magical technique "5 swords".
Here is a picture of my notebook from that day. You can click to expand it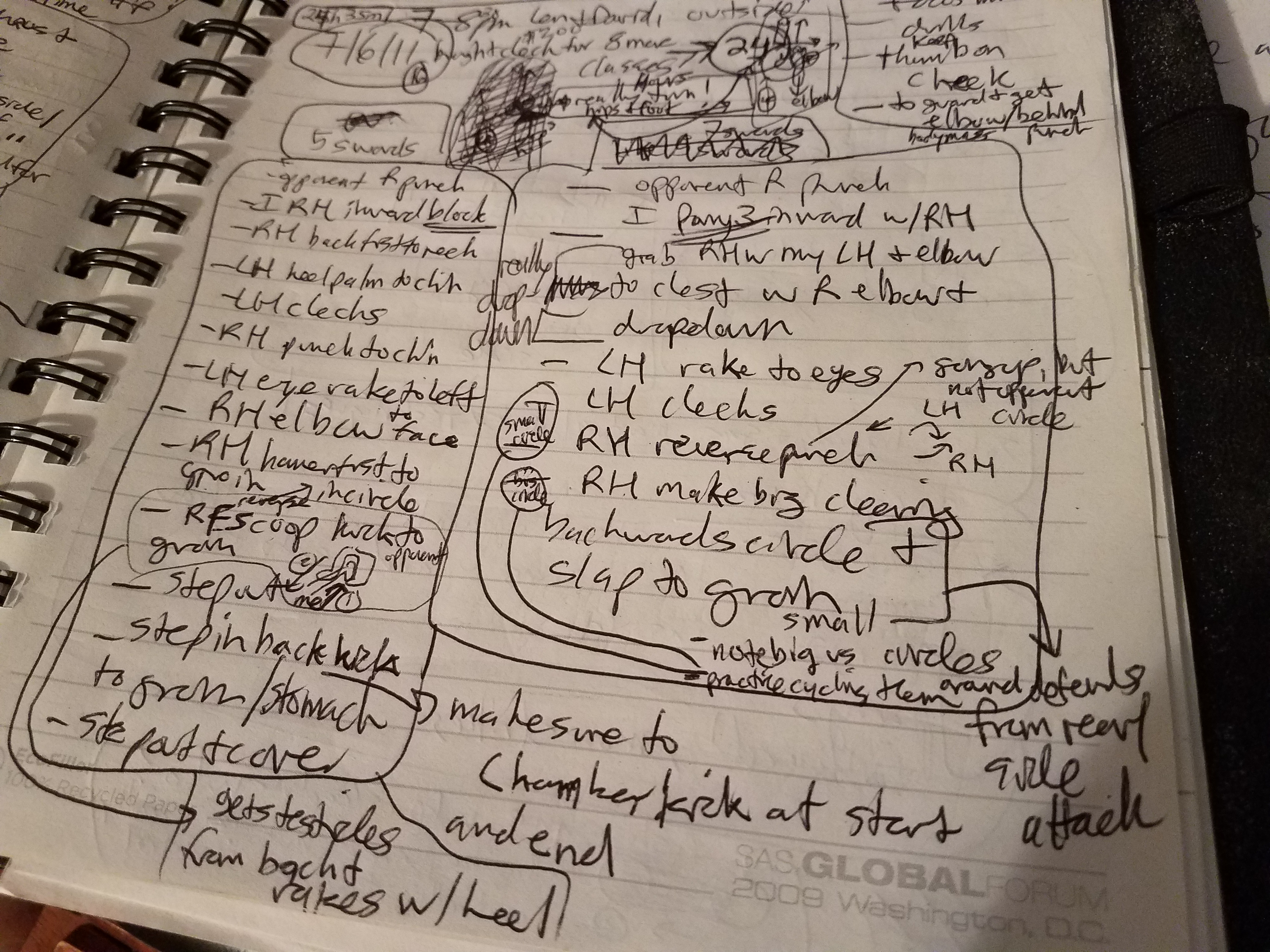 Note that there are many variations of "5 swords". The main ideas, as I see them, are to intercept a punching attack, move from point of orgin, check, use a variety of flowing strikes, footwork, and even incorporate a kick at the end. This is one technique that flows really well. If American kenpo had a Jerry West dribbling the ball NBA type of logo, it would be of someone doing 5 swords.
Please let me know the date which you learned 5 swords and send a picture of it from your notebook. Happy practice!
Please anonymously VOTE on the content you have just read:
Like:
Dislike:

Standard martial arts disclaimer

: The material contained in this article is provided for informational purposes only. Before undertaking the study of any martial art, you should consult with your physician. You should be aware if you engage in martial arts you are doing so entirely at your own risk, including any present and/or future physical or psychological pain or injury that you may incur. The author of this content cannot assume any responsibility or liability for any injuries or losses that you may incur as a result of acting upon any information provided by this content, or any links to other martial arts information found herein.
---
If you enjoyed any of my content, please consider supporting it in a variety of ways:
AFFILIATE LINK DISCLOSURE: Some links included on this page may be affiliate links. If you purchase a product or service with the affiliate link provided I may receive a small commission (at no additional charge to you). Thank you for the support!