If you find any of this useful, please consider donating via PayPal to help keep this site going.
Email news@statisticool.com to sign up to receive news and updates
Spot Price Premium
3/17/20
Here is a great example of why, if you buy silver or gold, you do not get even close to the spot price at times. Simply put, the dealers just increase the premiums to make up for a drop in spot price. Consider the silver price and the prices to buy an American Silver Eagle on 3/16/20 at APMEX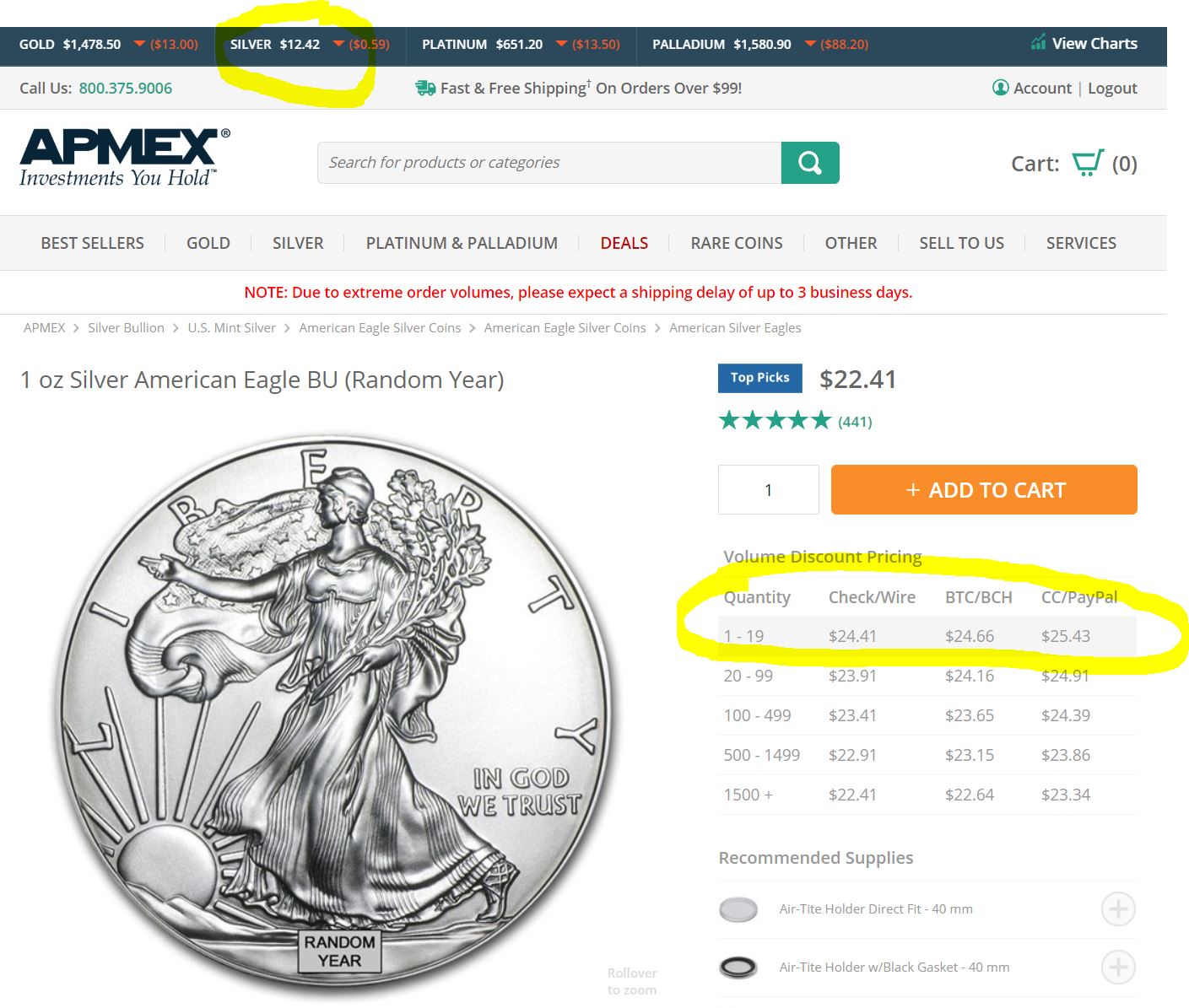 This is all understandable, and expected, however, because even a large precious metals dealer, and their staff, have a "survival constraint", and there are always larger premiums on American Silver Eagles compared to generic silver rounds. What is not great, however, is when the premium is so large that it starts to enter price gouging territory. Not to mention, a "Sell to Us" price would be much closer to the spot price. Also during this time, order minimums will also increase, from $0 to say $299.
Thanks for reading.
Please anonymously VOTE on the content you have just read:
Like:
Dislike:

Regarding investing

: I do not provide personal investment advice and I am not a qualified licensed investment advisor. I am an amateur investor. All information found here, including any ideas, opinions, views, predictions, forecasts, commentaries, suggestions, expressed or implied herein, are for informational, entertainment or educational purposes only and should not be construed as personal investment advice. While the information provided is believed to be accurate, it may include errors or inaccuracies. I will not and cannot be held liable for any actions you take as a result of anything you read here. Conduct your own due diligence, or consult a licensed financial advisor or broker before making any and all investment decisions.
---
If you enjoyed any of my content, please consider supporting it in a variety of ways:
AFFILIATE LINK DISCLOSURE: Some links included on this page may be affiliate links. If you purchase a product or service with the affiliate link provided I may receive a small commission (at no additional charge to you). Thank you for the support!