If you find any of this useful, please consider donating via PayPal to help keep this site going.
Email news@statisticool.com to sign up to receive news and updates
Bix Weir Generic Silver Price Prediction
5/7/23
In a 5/7/23 YouTube video titled "ALERT! End Game Update! Texas Adopts New Gold/Silver Monetary Alternatives! BUY SILVER!! (Bix Weir)", Bix Weir predicted his generic silver round, which he erroneously calls a "coin", will get to at least $299, on just the silver content, by 9/11/23.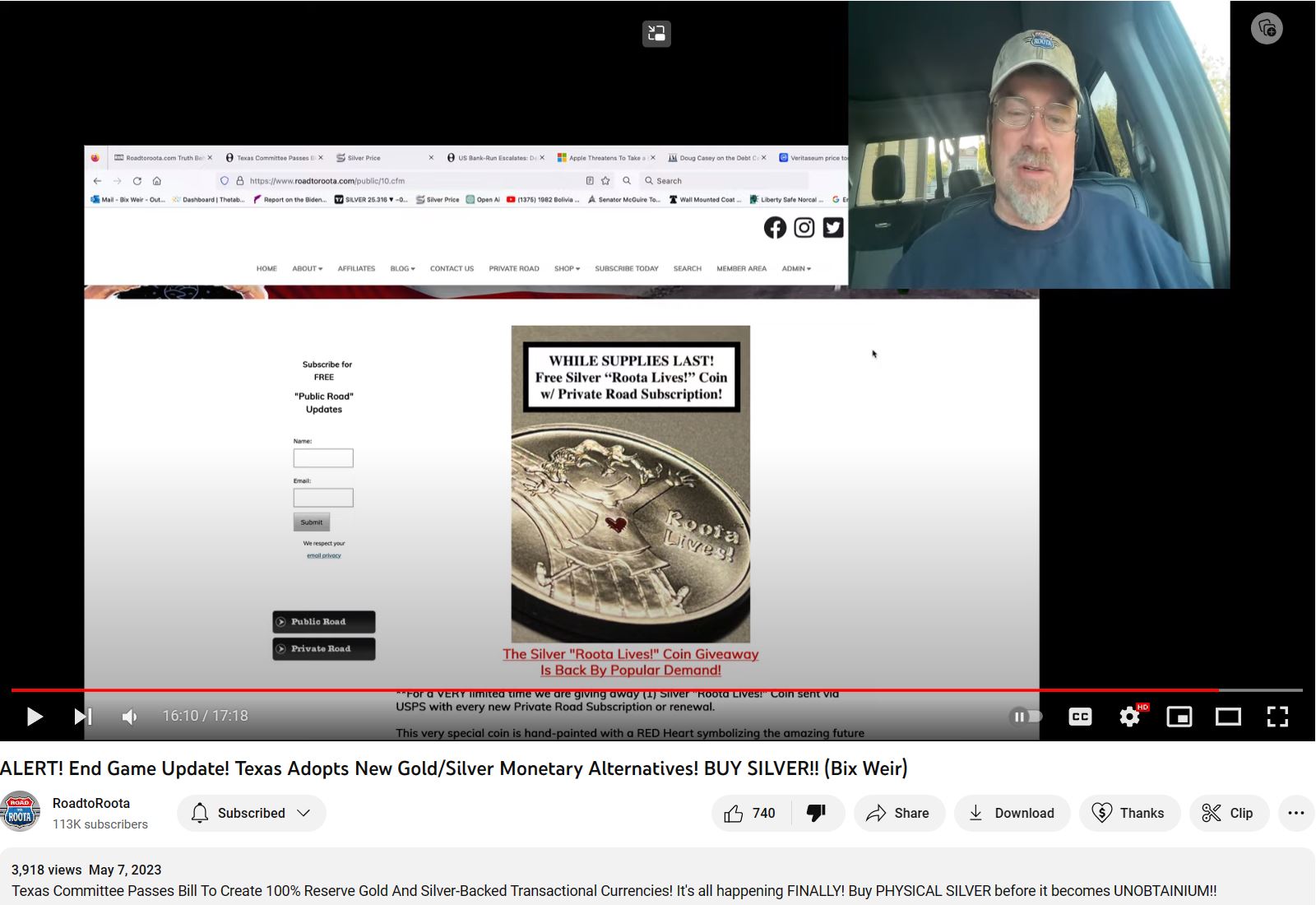 As of writing, the spot price of silver is $25.93 / troy oz. For the spot price of silver to get to $299 by 9/12/23, the spot price will need to increase considerably.
If Weir is correct, he gets $1,000
I found this prediction to be quite silly, so I made another risk-free challenge for Weir. If the spot price of silver is at least $299 per troy oz by 9/12/23, I will give him $1,000. If Weir is wrong, then he doesn't owe me anything.
Let's check back on 9/12/23 and see how accurate Weir's prediction was.
Thanks for reading.
Please anonymously VOTE on the content you have just read:
Like:
Dislike:

Regarding investing

: I do not provide personal investment advice and I am not a qualified licensed investment advisor. I am an amateur investor. All information found here, including any ideas, opinions, views, predictions, forecasts, commentaries, suggestions, expressed or implied herein, are for informational, entertainment or educational purposes only and should not be construed as personal investment advice. While the information provided is believed to be accurate, it may include errors or inaccuracies. I will not and cannot be held liable for any actions you take as a result of anything you read here. Conduct your own due diligence, or consult a licensed financial advisor or broker before making any and all investment decisions.
---
If you enjoyed any of my content, please consider supporting it in a variety of ways:
AFFILIATE LINK DISCLOSURE: Some links included on this page may be affiliate links. If you purchase a product or service with the affiliate link provided I may receive a small commission (at no additional charge to you). Thank you for the support!