If you find any of this useful, please consider donating via PayPal to help keep this site going.
Email news@statisticool.com to sign up to receive news and updates
GPP vs SPP
12/18/09
In the training world there is General Physical Preparation (GPP) and Specialized Physical Preparation (SPP). GPP is designed to provide balanced conditioning in a variety of skills, whereas SPP concentrates on a single or a few skills that are specific to a particular sport.
Is one better than the other? No. However, if there were a contest in which a series of varied events were chosen randomly for competitors to compete at, a GPP practitioner would most likely dominate.
I created a simulation to demonstrate the basic argument. The simulation considers 10 SPP scenarios. For each scenario, 500 randomly generated GPP practitioners compete against 500 randomly generated SPP practitioners and are judged over 10 skill categories. The simulation calculates the percent of the time GPP wins, SPP wins, and GPP and SPP tie.
Assumptions:
One cannot have 0 amount of skill. Even if one is terrible at something, it is still a small amount of skill.
To go from GPP to SPP means to concentrate more in a skill.
Someone with more skills will beat someone with less skills.
I considered GPP to be skill distributed uniformly randomly among the 10 skills. I considered SPP to be varying concentration of skill in Skill 1. I considered the following SPP scenarios
| | |
| --- | --- |
| SPP Scenario | Level of Concentration in Skill 1 |
| SPP1 | 1 |
| SPP2 | 2 |
| SPP3 | 3 |
| SPP4 | 4 |
| SPP5 | 5 |
| SPP6 | 6 |
| SPP7 | 7 |
| SPP8 | 8 |
| SPP9 | 9 |
| SPP10 | 10 |
Here is a graph of the results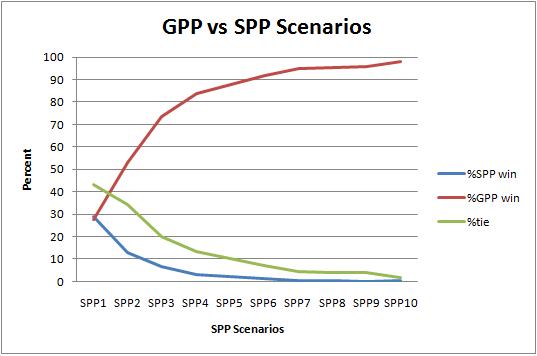 The GPP vs SPP simulation is available here.
Please anonymously VOTE on the content you have just read:
Like:
Dislike:

Standard exercise disclaimer

: The material contained in this article is provided for informational purposes only. Before undertaking any form of exercise, you should consult with your physician. You should be aware if you engage in exercise you are doing so entirely at your own risk, including any present and/or future physical or psychological pain or injury that you may incur. The author of this content cannot assume any responsibility or liability for any injuries or losses that you may incur as a result of acting upon any information provided by this content, or any links to other exercise information found herein.
---
If you enjoyed any of my content, please consider supporting it in a variety of ways:
AFFILIATE LINK DISCLOSURE: Some links included on this page may be affiliate links. If you purchase a product or service with the affiliate link provided I may receive a small commission (at no additional charge to you). Thank you for the support!